During this revolution period, sushi cravings are real. Business is slow and many restaurants are offering very affordable sushi sets.
Here are the top 8 offers from sushi places I recommend:
1) Olio Soto 1$/piece (1500 LL)
1$ per piece on any maki. Available for delivery dine in.
Excluding weekends: from Monday till Thursday all day, and Friday till 5 pm. 
2) Oshima Sushi Bar, Spinneys Jnah: The Delivery Offer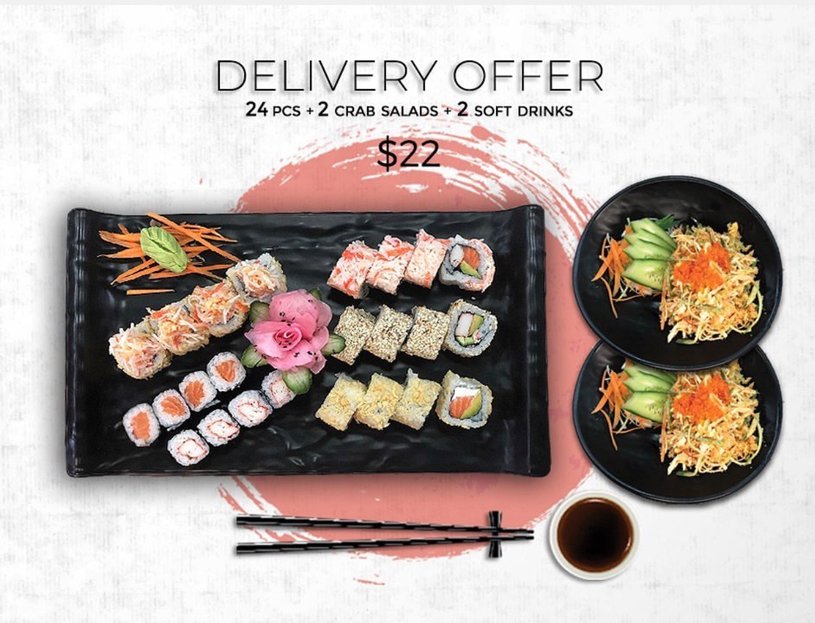 Oshima sushi bar is a small sushi bar inside spinneys jnah. This attractive delivery offer is still on.
24 pieces (~Half Salmon, ~Half Crab), with 2 crab salads and 2 soft drinks, for $22 (I believe it is still for 33 000 LBP).
3) Saigon, Naccache: the 40 pieces offer
Saigon at Naccache offers good quality sushi, and this offer is very attractive.
40 pieces and 2 crab salads for 44 000 LL. Delivery and take away only.
4) Tokyo Middle East, Jounieh: sets of 30, 40, 50
Tokyo Middle East in Jounieh, offers affordable sets of 30, 40 or 50, for 1000 LBP per piece.
30 pieces for 30 000 LL, 40 pieces for 40 000 LL, 50 pieces for 50 000 LL
I am not sure what the exact pieces are, but usually a combination of crab, salmon and shrimp. Some pieces may contain avocado only like in the picture.
5) Shinto: 20 pieces for 20$
20 pieces for 20$ (30 000 LL)
They have also similar bigger sets offers. Delivery only.
6) Oceanus, Ashrafieh: Sushi Mix Set
Oceanus Ashrafieh offers good quality and big juicy sushi pieces.
This sushi mix set offers 16 pieces for 26 000 LL. Valid for both dine in and delivery.
7) Wakame, Mansouriyeh: 16 pieces classic set
Wakame made the list with this offer.
16 pieces for 16$.
The place is good overall. I believe the place is only in Mansouriyeh, not sure if the gemmayzeh branch is closed. Valid for both delivery and dine in (Probably still for 24 000 LL).
8) Tri S, Hamra and Hazmieh: 30% Off All Menu Items (expired)
Tri S is now offering 30% off its entire menu items during the revolution period (excluding open sushi and the special delivery offers).
The sushi is fresh and the menu offers a huge variety. Valid for dine in and delivery.